Shiloh's JH Girls Basketball game away tonight (11/9/21) will be held at the Oakland HS gym and not Kansas HS due to Kansas hosting the Choral event at their facility. The 7th Grade game starts ay 6 pm followed by the 8th Grade game.

We just received an updated Elementary Menu for November from Aaramark. Please see the link below:
https://5il.co/11h2e

5th Grade Honor Roll students are the best! Congrats to Avery Bowyer and Callie Duzan for High Honors and Peyton Duzan, Kolten Key, Claire Tharp, and Adelynn Tyler for Honor Roll. 5th grade did silly with a little persuasion...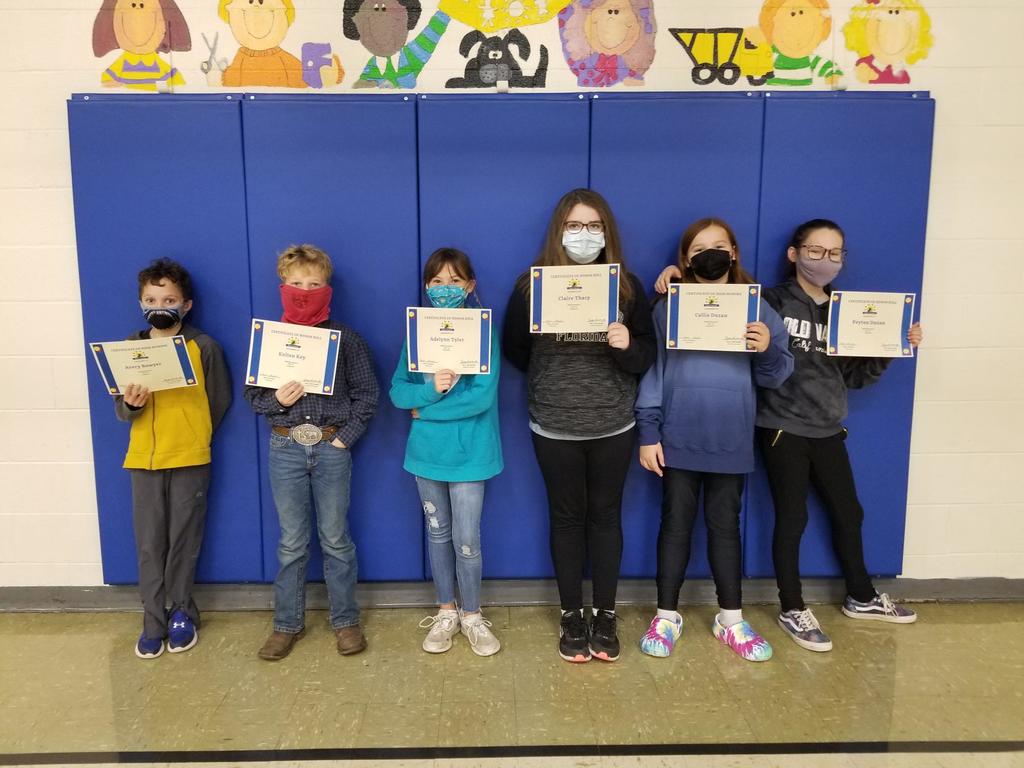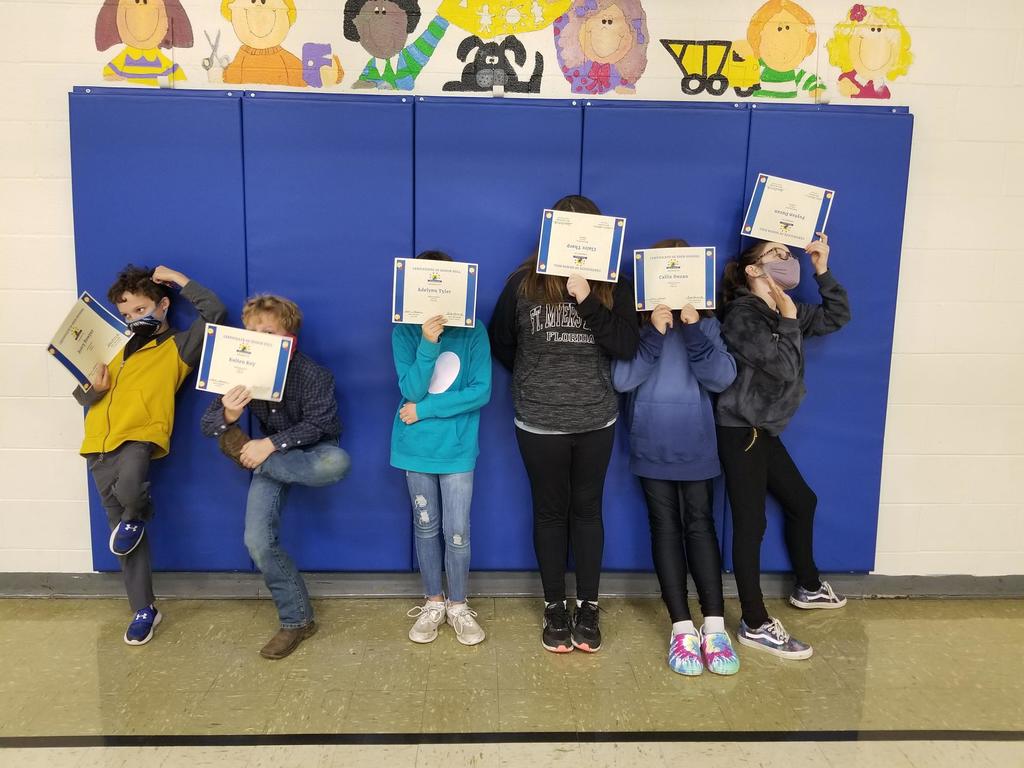 Congratulations to our 4th grade Honor Roll rockstars! Making High Honors: Bryer Cummins, Emma Elston, Keagan Grover, Lily Grise, and David Hobbs. Making Honor Roll: Garistan Grzegorek, Kane Luth, Devan Rose, Brendan Johnson, Briar Peters, Khloe Pieper, and Leah Wood. Way to go 4th grade! 4th grade also went the "silly" route at the Honor Roll breakfast this morning.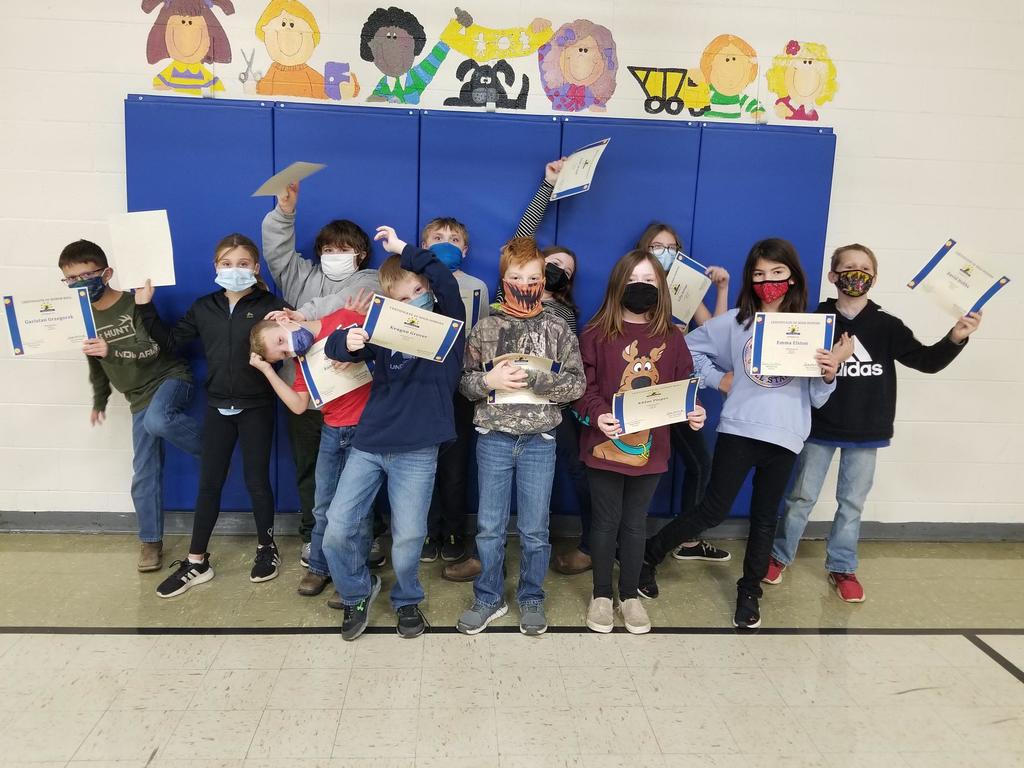 Way to go 3rd grade! Making High Honors: Sophia Biddle, and Gwen Garwood and Honor Roll: Owen brown, Isla Gardiner, Aubry Littleton, Tinley Luth, Savannah Richards, and Ralph Ritchey. Great job everyone! Our 3rd graders opted for a normal AND silly picture!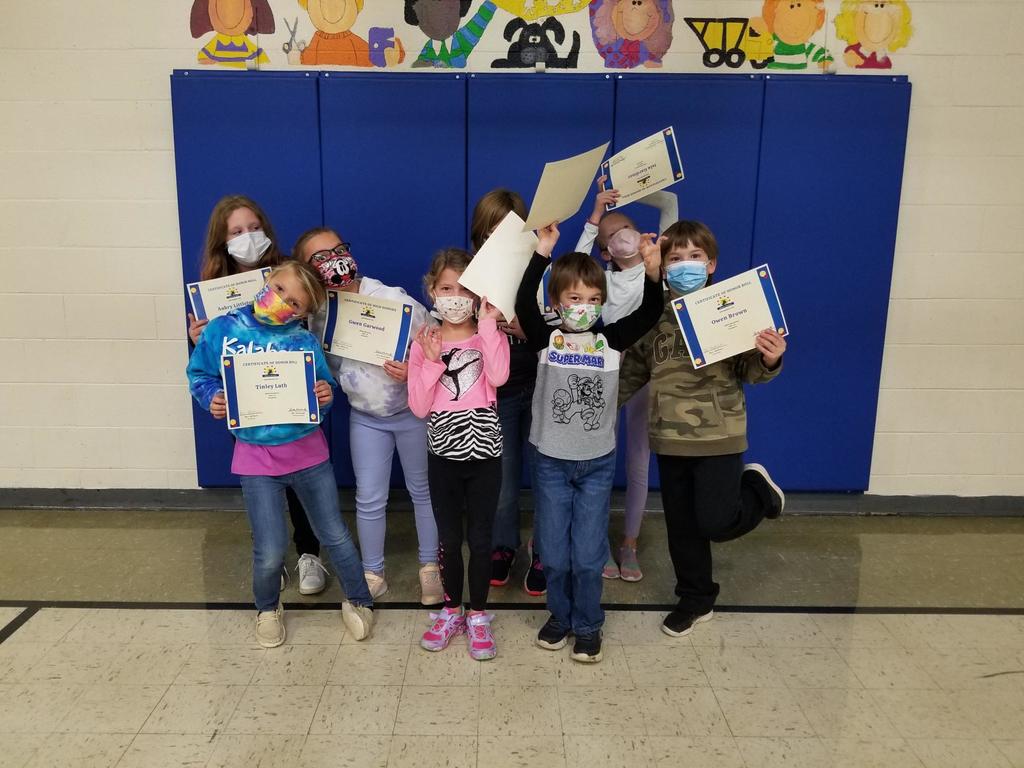 8th grade Honor Roll students rock! Congrats to Brooklyn Tharp for High Honors and Katie Holmes, Clay Kibler, Margaret Milburn, and Peyton Riley for Honor Roll.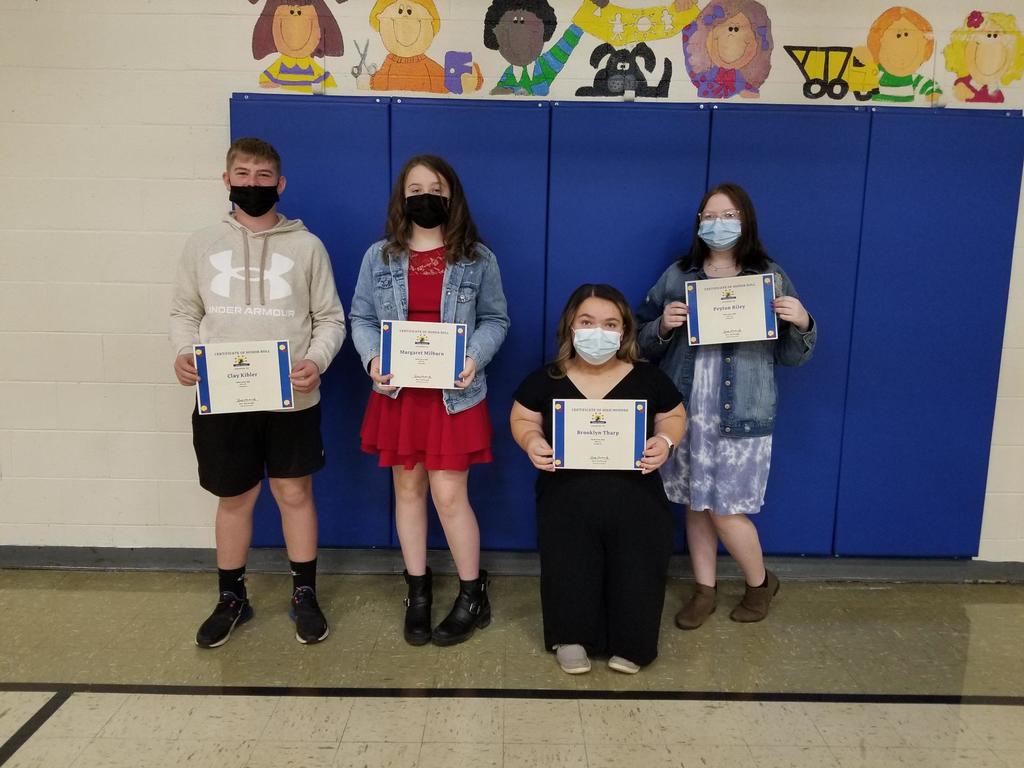 Check out our 7th grade Honor Roll students! High Honors: Alison Cash, Ahlyssa Garwood, Alana Santiago, Taylor Williams, and Addison Wright. Making Honor Roll: Wyatt Ash, Ella Bennett, Ryder Johnson, Kyrstin Michael, Trevir Trotter, and Judd Wolfe. Congratulations!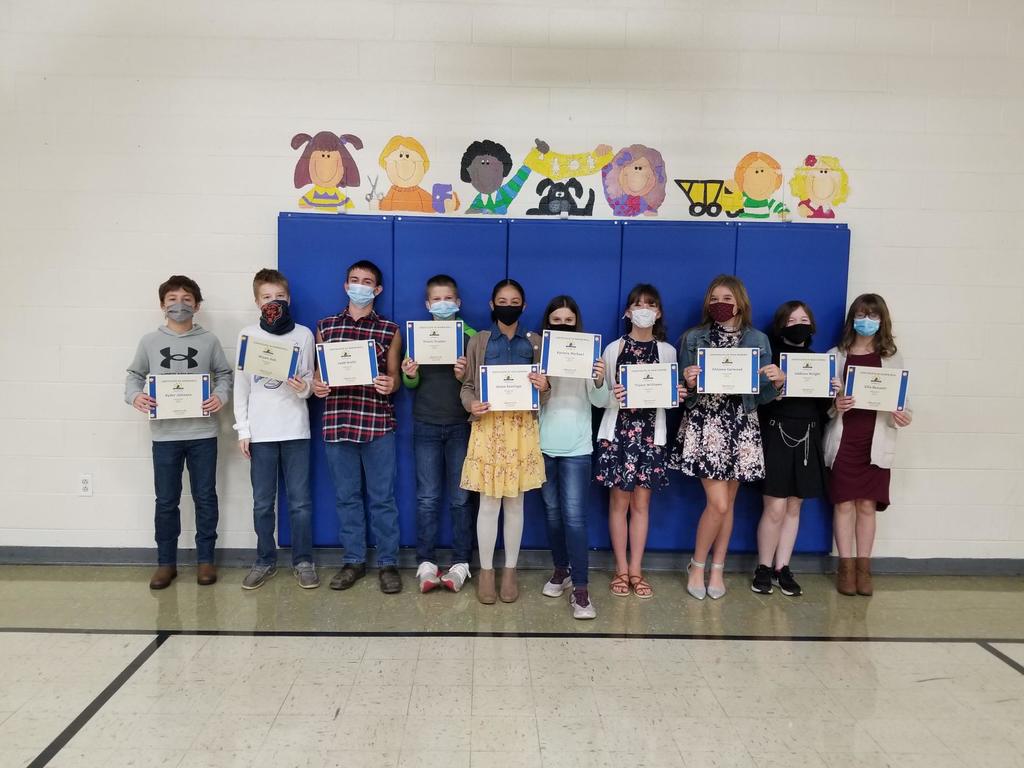 Congrats 6th graders for making Honor Roll! Sawyer Anderson and Seth Anderson made High Honors and Haylee Buckler, Dakovanie Donithan, Avery Grise, Corinne Heintz, Kayden Johnson, Kaylynn Key, Wyatt McClain, Devin Wright, and Noah Yost-Mantels made Honor Roll. Congratulations!!!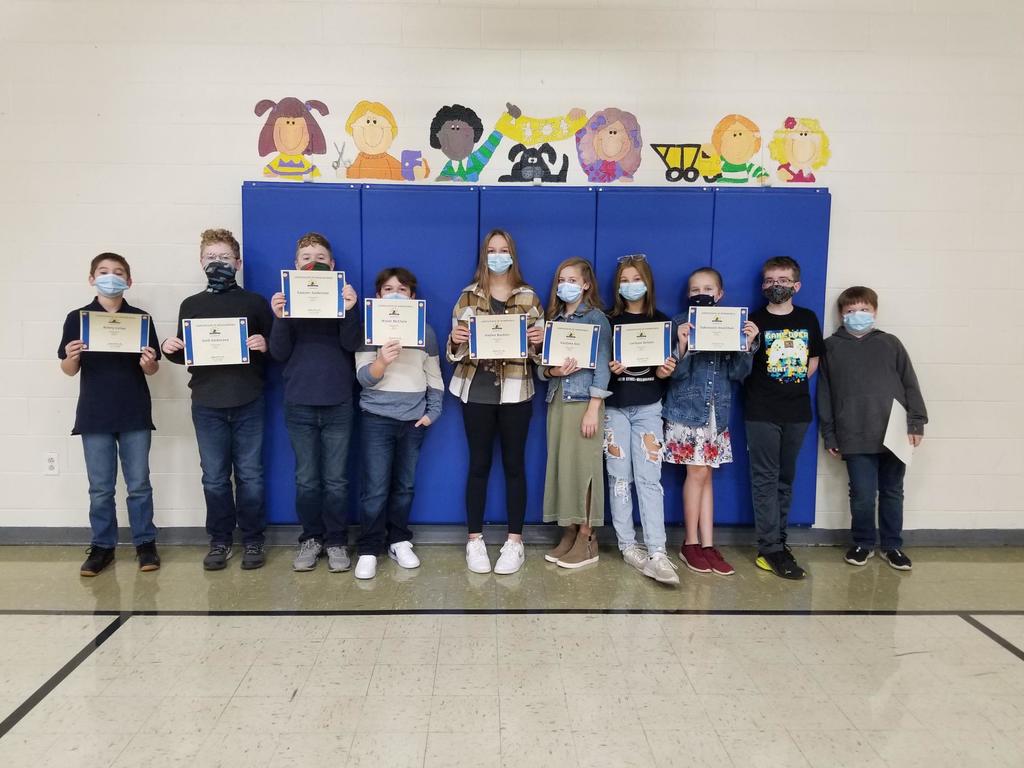 Here are our Freshman Honor Roll Students...Making High Honors we have Kennedy Brown, Lilyan Brown, Shaylun Christenberry, Andy Houlihan, Jack Houlihan, Lily North, and Lydia Richardson. Making Honor Roll were Makayla Adams, Taran Borntreger, Kiersten Budd, Alex Flynn, Bradyn McIntyre, Chance Mullenix, Grant North, Garrett Pollock, Carson Rardin, Kayli Trotter and Candice Wheeler.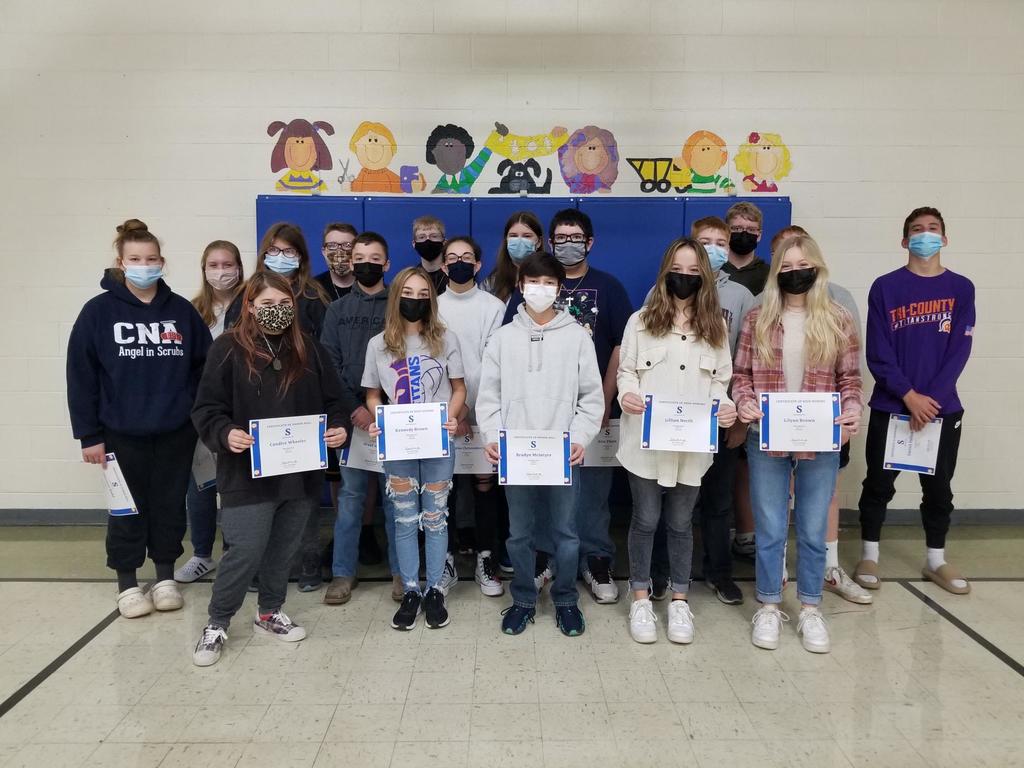 Congratulations to our 10th grade Honor Roll students! Making High Honors: Josie Armstrong, Holden Crank, Kenzie Hales, and Samantha McClain. Honor Roll: Levi Ash, Mara Bosch, Braxton Buckler, Dallas Cary, Kaiden Cooper, Emily Milburn, Makaylah Paceley, Bri Reese, and Payton Vezina.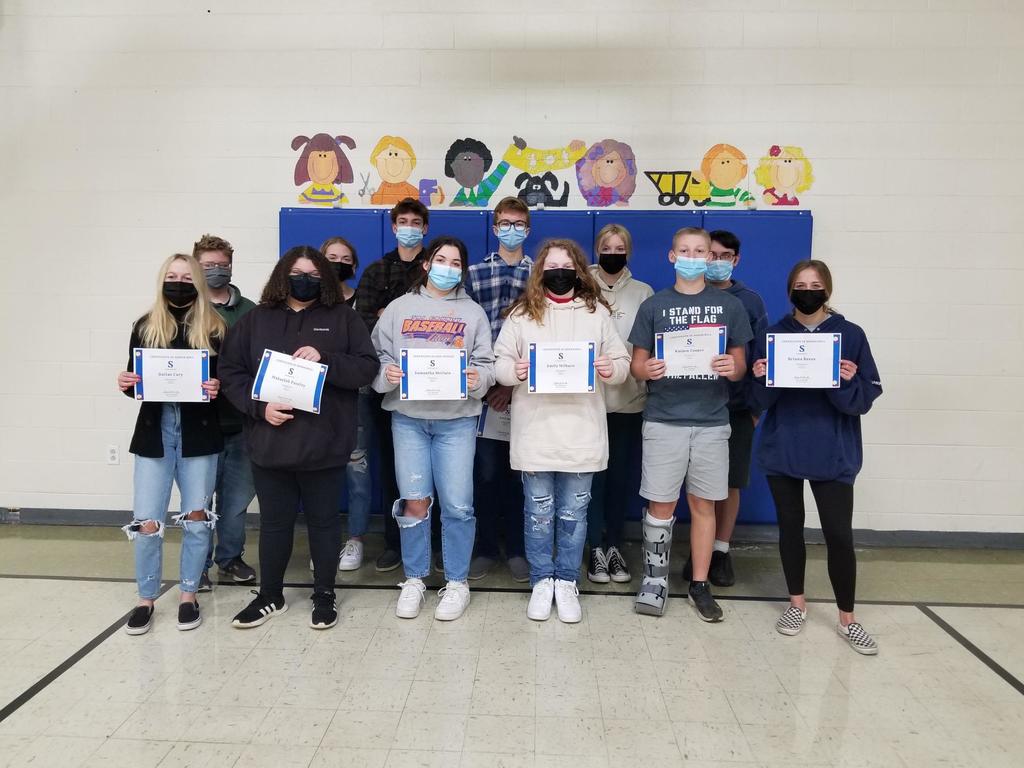 Congratulations to our Junior Class Honor Roll students! Congrats to Brenden Cash, Will Morris, Briton Tischer, and Kaylin Williams for High Honors and McKenzie Aue, Thaylee Barry, Zoey Burton, Levi Eads, Tony Graham, Izzabella Hoth, Tyler Hutchinson, Angel Kollman-Elliott, Emma Luth, Kelsey Luth, Karissa Nield, Zoey Penrod, Mollie Pollock, and Jacob Smith for making Honor Roll!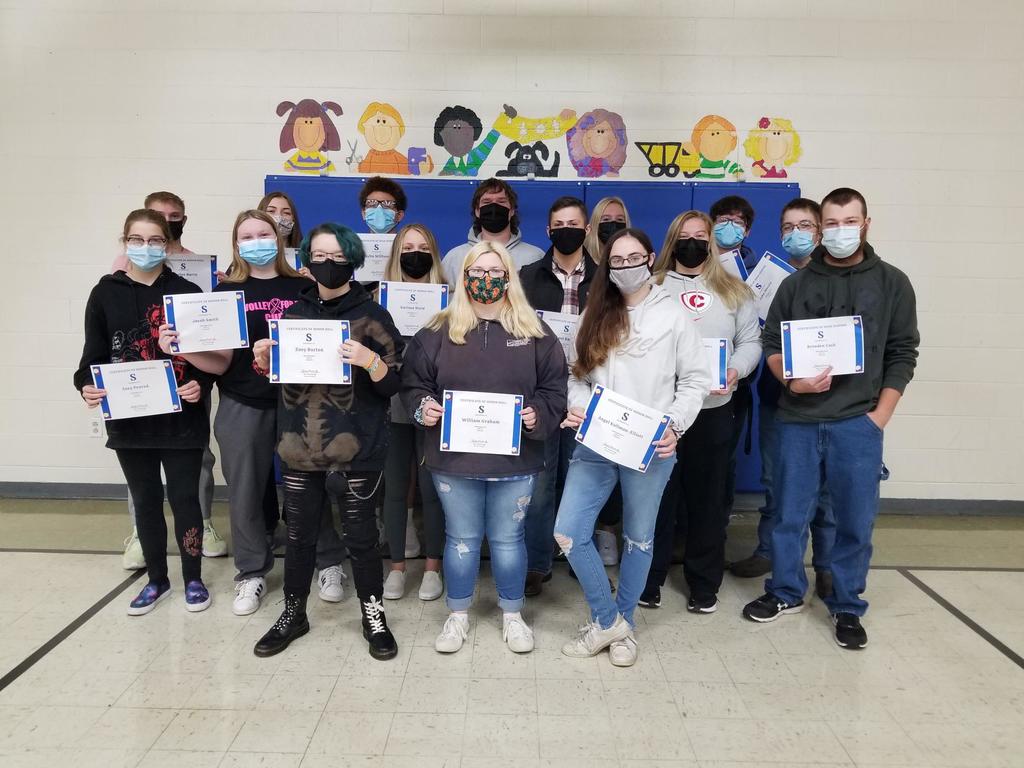 Congratulations to our 12th grade Honor Roll students! Congrats to Jack Armstrong, Will Benner, Josie Carroll, Madelyn Cary, Mystique Dalton, Bella Dudley, Megan Houlihan, Holden Kile, Colby Luth, Kim Mantels, AnnRose Mendoza, Keirsten Morris, Greg Reese, and Caroline Smith for making High Honors. Congrats to Gloria Harris, Tim Keske, Emery Keys, Baylee Rhode, Ashton Thompson, Ivan Tryon, and Asheley Wheeler for making Honor Roll.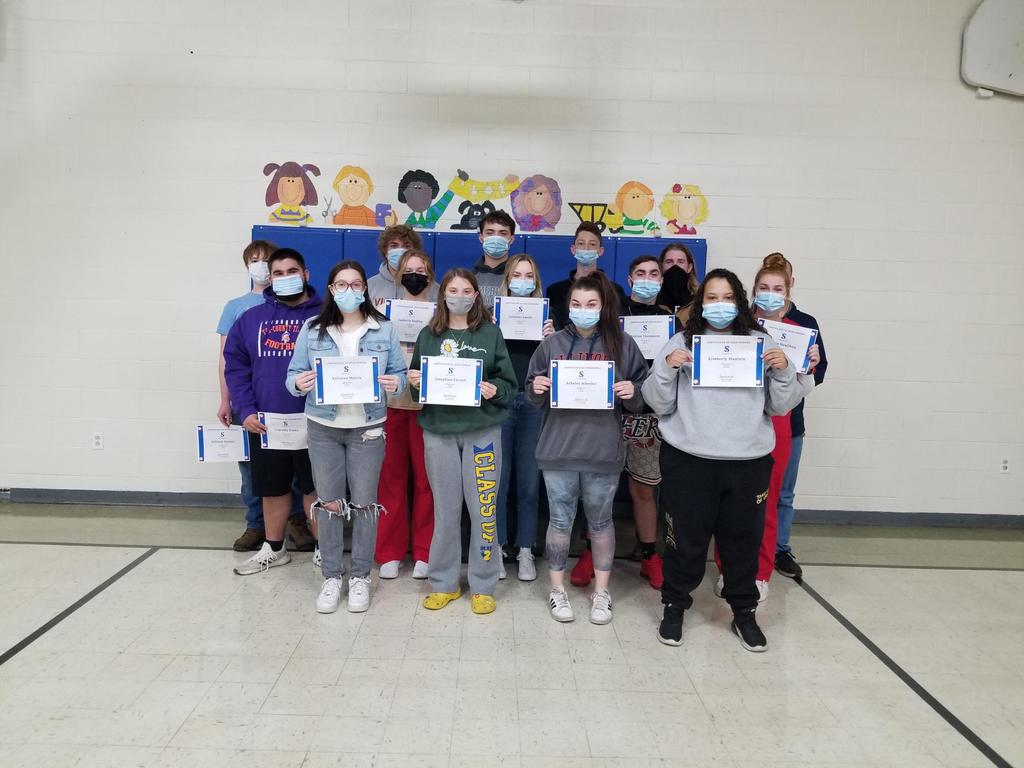 We are so excited about how many Veterans Day Hero forms are coming back to school. Mrs. Pollock is getting a banner ready for the wall and we are nearly ready to start hanging our Hero forms up so everyone can see. If you need a form, contact the office at 217-531-1850 ext. 1. We can email a form to you or can send home with your student.

Here is a picture of all of our Jr. Beta members, old and new. We tried everything we could to keep the live feed going, but the signal was just awful today. There are parts that came through including most of the new member induction. Congratulations to our new members: Seth Anderson, Sawyer Anderson, Wyatt McClain, Dakovanie Donithan, Kaylynn Key, Alana Santiago, Peyton Riley, Ryder Johnson, Tayler Rardin, Ella Bennett, Avery Grise.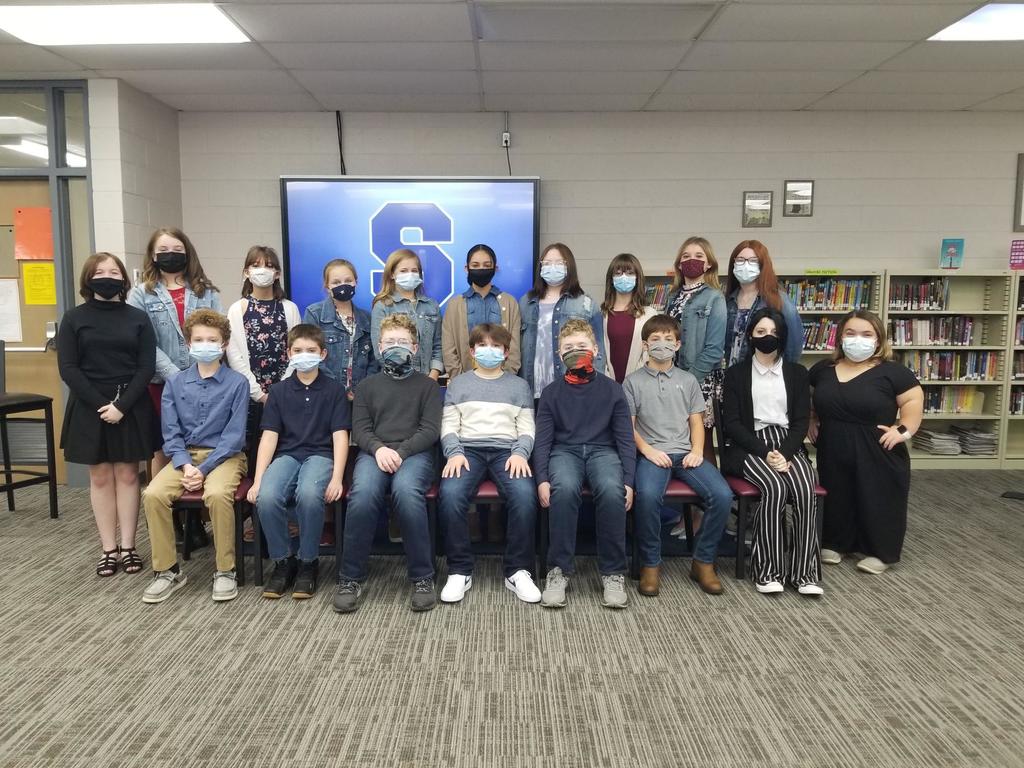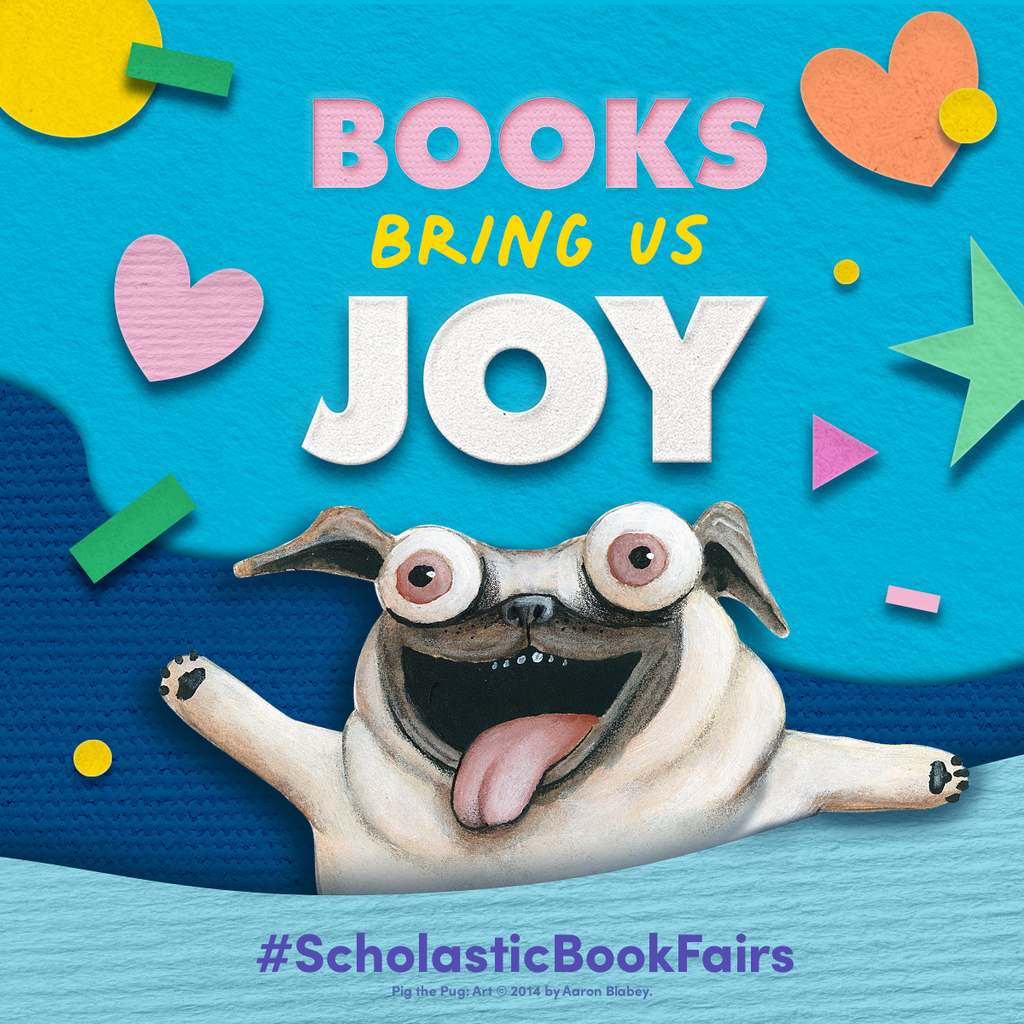 It's not too late to participate in our Veterans Day Hero Project! We hope to cover our walls with our Hero forms and honor all of our family and friends who have served in he armed forces. There is a Hero form attached, but they are also available in the student offices. We invite students in PreK-12th to participate in honoring friends and family members who have served at any point in time. Help us make this project a success! Hero Form:
https://5il.co/11c8r

Elementary and Junior High: This is our first chilly week of the school year. Be prepared for outdoor recess in cooler temperatures. Please make sure your student is ready with coat, hoodie, gloves, and hat as appropriate for each day's expected weather.

Due to wet conditions, the Haunted Prairie will take place on Saturday, November 6, 2021.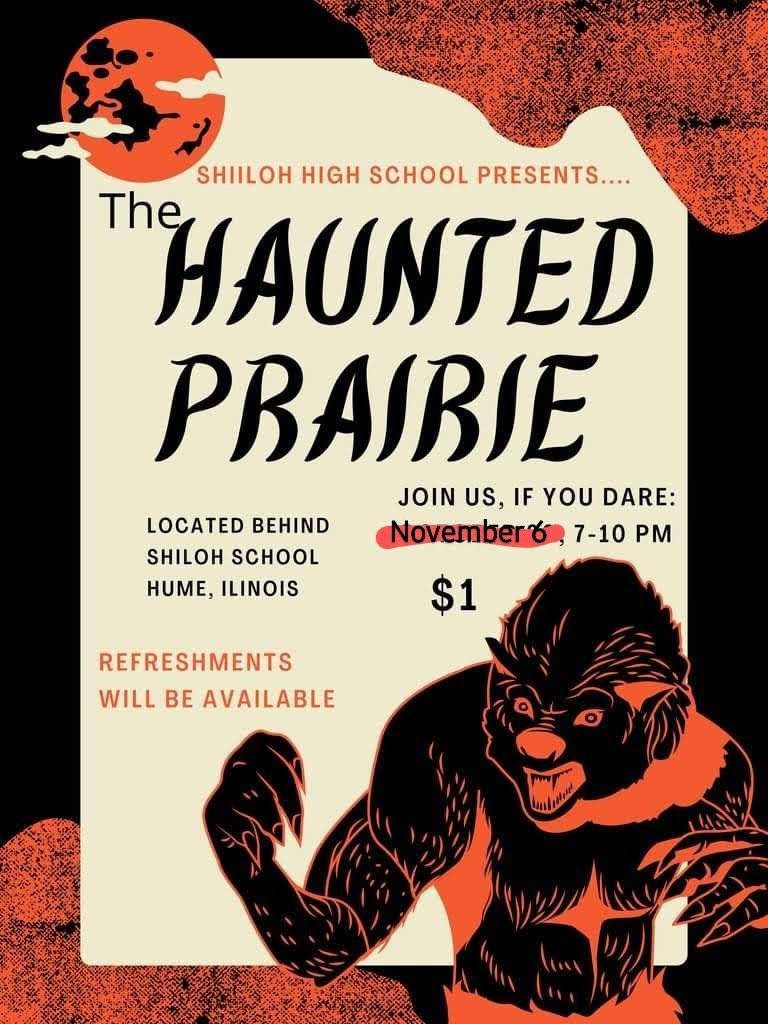 Thank you to Newman Rehabilitation & Health Care for providing Halloween treat bags to our students in Pre-K through 3rd grades. The students loved them!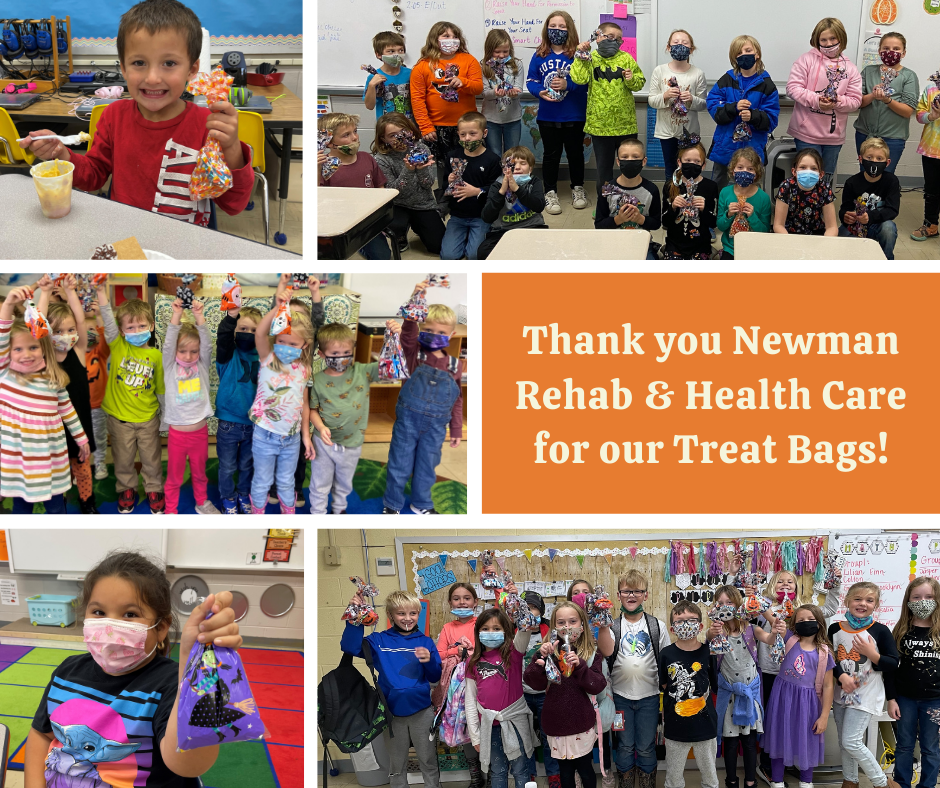 Don't forget about the Haunted Prairie! Join us on Saturday, October 30th, from 7 to 10 pm. Admission is $1. There will be a mildly scary and super scary option to accommodate all age groups. We can't wait to see you there!!!